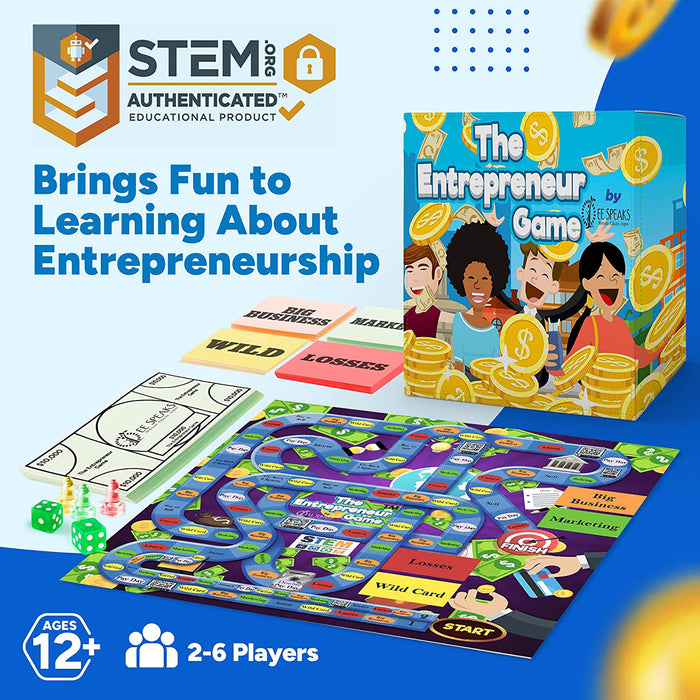 Board Game- The Entrepreneur Game- Award Winning STEM-Accredited Business Finance Board Game for Entrepreneurship- Learn How to Create Grow and Expand Your Idea Into an Empire
How to Play
The game starts with 2 to 6 players. Each player is given a sum of start-yo capital and makes 3 decisions;
1. What type of business would you like to open?
2. What is the name of your business?
3. Is it a brick & mortar, or home-based business?
Then you roll the dice on your turn and whatever color space you land on, you pick a card from that deck, and incorporate whatever it says into your game. The card decks are where the entrepreneurial learning happens!
The game ends when everyone reaches the finish line. The one with the most cash and non-cash assets wins the game. And if you become a millionaire the rest of the players must; say your name, say "you are an incredible entrepreneur, please teach me your wisdom".
That is the simple version. There is more to the rules and game, but at it's core, it is just this simple, but the rewards are phenomenal.
About the Product 

Hone Financial Literacy Skills While Having Fun - Introduces life skills and financial literacy skills essential for success, such as critical thinking, decision making, communication, project management, investing, and more with the Entrepreneur Board Game. Our interactive games help kids learn 21st-century concepts and skills early on. This game for kids also ensures their future and legacy, through play.

 

Sparks Creativity - Our strategy board game transforms classrooms and homes into special places of learning where children can get creative. This educational game will get them off of their cell phones to develop a love of playing board games, while learning business lessons, life skills and building business visions for their futures.

 

Prepares Children for Success - Looking for something unique to encourage kids to learn? Do it with our educational game! This fun game boosts confidence, promotes critical thinking, and develops decision-making skills—all of which foster an entrepreneurial spirit. Learning through play is one of the best ways for children to learn.

 

Interactive Game for Parents and Kids - Learn and experience real entrepreneurship as a family. Our family fun game is designed for ages 12 and up. This game is for pre-teenagers, teenagers and adults, and it lets you choose your dream business and teach valuable lessons and skills that lets them accomplish those dreams in real life.

 

A Must-Have for Game Nights - Teens and adults alike can have a blast with our kids board game! You can test your skills in running a business, building an empire, and reaching your dreams in an enjoyable way. Bring back the family dynamic of weekly games around a table. Rise to the challenge with this one-of-a-kind educational board game.
Strengths;
The game uses real-life entrepreneur scenarios to allow players to get a true feel for what it is like to be an entrepreneur.

Players learn (practice) key skills about accounting/math, negotiation tactics, partnership building, idea creation, and more

Teaches soft critical skills like; problem-solving, critical thinking, communication, brainstorming, risk-taking, facing failure and resilience, goal setting, working together, and confidence.
Facts;
Entrepreneurship is a learnable skill that should be taught early
Early exposure to entrepreneurship, finance, investing, business strategies, negotiation tactics, and more are crucial to the success of any capable human beings

Entrepreneurship changes the lives of young people and those who are a byproduct of their existence

The Entrepreneur Game helps transform homes, classrooms, and programs into an incredible place of learning, allowing students to shine in different areas of business