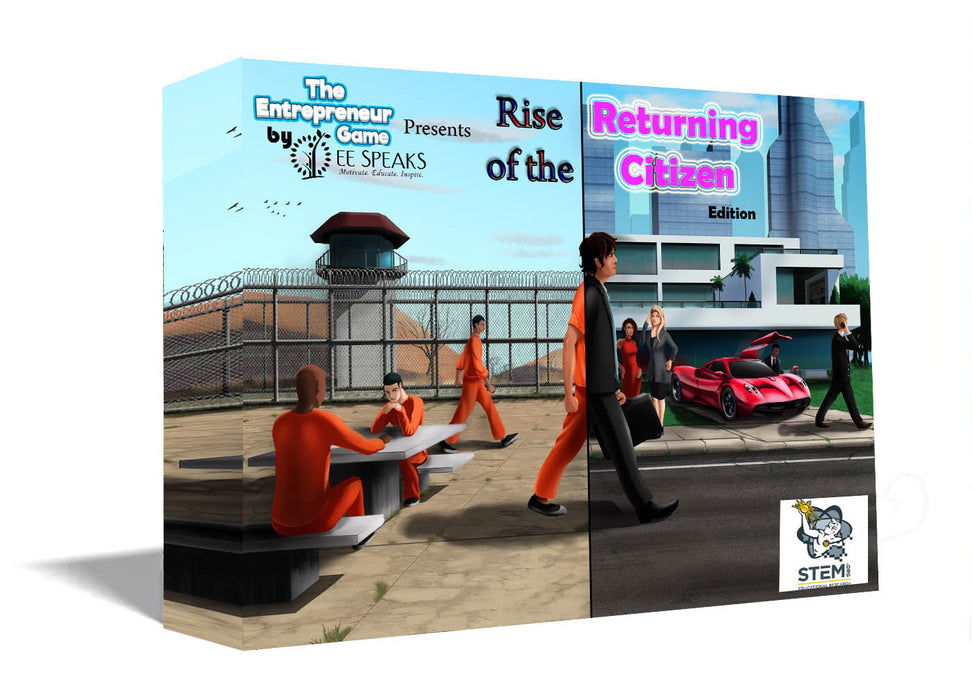 The Entrepreneur Game- Rise of The Returning Citizen. STEM Accredited Rehabilitation Board Game for Returning Citizens, Promotes self Confidence, Lowers recidivism., Teaches How to Start own Business
The new report, "Ex-offenders and the Labor Market," found that in 2008, 15 years ago, there were between 12.3 million and 13.9 million ex-felons in the United States. Over 90 percent were men. These are individuals who will have a hard time finding gainful employment offering a living wage, even though they have talents and skills that can help us all when focused on something beneficial. When ex-offenders get desperate and cannot see a path to financial and personal success, the chances of repeating an offense increases substantially. Let's reveal another way:

Rise of the Returning Citizen was created to impact the mindsets of our brothers, sisters, cousins, uncles, aunts, friends, and acquaintances. 
We have taken the award-winning, critically acclaimed, STEM Accredited Entrepreneur Board Game, and adapted it to focus on our juvenile, and adult returning citizens. This version of The Entrepreneur Game not only builds STEM based and entrepreneurial skills through play, but it also includes challenges and situations that will help reshape the TYPE of entrepreneur the players will be. By giving situation, questions, and challenges that increase business acumen AND give opportunity to make choices on personal and social etiquette..  
The Entrepreneur Game: Rise of the Returning Citizen
Players utilize skills for life and business: math, decision-making, critical thinking, negotiations, investing, marketing, and more.

Instills necessary knowledge and insights needed to be a successful entrepreneur

Transforms classrooms and homes into incredible places of learning

Uses real-life entrepreneur scenarios

An engaging game designed to transform players learn and apply entrepreneurship in and out of the classroom